Serving the Denver-metro area and surrounding cities including:
Denver, Lakewood, Englewood, Aurora, Littleton, Arvada, Highlands Ranch, Westminster, Thornton, Centennial, Wheat Ridge, Castle Pines, Golden, Louisville
Bailey Tree Service provides the
following residential and commercial tree services:
Tree Trimming (All Sizes)
Tree Removals (All Sizes)
Stump Grinding / Removal
Wood & Brush Chipping
Shrub Care
Shearing, Shaping, and Natural Pruning
Tree Health Consultations
Cabling
Bracing
Fruit Tree Care
Fertilization
Tree Spraying for disease and insect control

Tree Trimming Service Company
Bailey Tree Company is a family owned & operated tree service and tree care business in Lakewood, Colorado. We offer free tree service estimates whether you live in Boulder, downtown Denver, or Castle Rock. We have an ISA Certified Arborist on staff and are fully licensed, and fully insured. We bring over twenty-five years experience in tree services and tree care to our customers.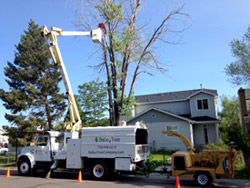 With Bailey Tree Company, no tree service need is too big or too small. We have the experience and the equipment to safely and efficiently complete many different types of tree services including: tree trimming, tree removal, stump grinding, fruit tree care, and Ash Tree care!
Bailey Tree Company has earned all of the Denver-metro area and Denver, Arapahoe, Jefferson, and surrounding county tree service licenses necessary to perform tree removals or tree trimmings in any location surrounding Denver, Colorado.
Bailey Tree Company is owned and operated by Steven and Robert Bailey; both are passionate and knowledgeable about a wide variety of tree services including: Tree Trimming, Tree Removal, Stump Grinding, and Fruit Tree & American Elm Tree Care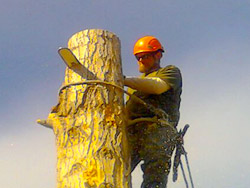 Over his twenty-five years of working in the Denver-metro area tree service industry, Robert Bailey has worked for every large tree service company in the Denver area. He was always hailed as the top tree service professional and, in 1996, was inspired to pursue and obtain the ISA Certification. Today his is one of the most well respected Tree Service Professionals in the state of Colorado, taking pride in his safe and efficient work ethic.
Steven Bailey has so much faith in his brother's capability and expertise in tree service and tree care that he sold his house and property in upstate New York and moved to Denver to partner with Robert to augment Bailey Tree Company. Steven brings a wealth of environmental knowledge to Bailey Tree Company having earned a Bachelor's degree in biology. His background has truly made Bailey Tree Company an unbeatable tree service team.
As a result, Bailey Tree Company performs tree services, including tree trimming and tree removals, more quickly, more safely, and with greater care than any other tree service company in the Denver, Colorado area making Bailey Tree Company the best choice for your tree trimming, tree removal, and stump grinding & tree stump removal needs.